To ensure children reach their full developmental potential, it is imperative that rehabilitation begins as early as possible. This is why we support and educate children starting from their early age through our H.O.P.E. Child Development Program. (H.O.P.E. is an acronym that stands for Helping Orphans Prosper through Education.)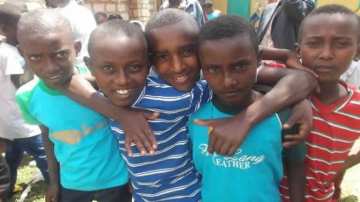 Education is core to SHAPEthiopia's philosophy of transforming a person to a dignified, happy, healthy, and productive life. Hence, in our H.O.P.E. Child Development Program, SHAPEthiopia aims to empower orphans and vulnerable children who are committed to academics but whose life circumstances put them at risk of not pursuing their education. The general objective of the program is to provide holistic support to the children to meet their basic needs, so that they can start and continue their education till they graduate from high schools.
The children attend daily the H.O.P.E. Centers that are located in each district where we implement our programs. The integrated approach of the program at each Center includes providing the children with fully balanced nutrition meals at schools or distributing food items to use at their homes; educational support (school materials, uniforms, and tutorial and tuition fees); personal assistance (supplementary clothes and shoes); medical care services; and personal hygiene care materials supply.
Each H.O.P.E. Center has its own Project Management Unit (PMU) that carries out the Center's day-to-day activities and it's staffed by a Site Coordinator, Project Officer, Grants Accountant, Health Officer, Social Worker, two guards, and two cooks.
How Our H.O.P.E. Child Development Program helps improve children's lives
Our work has helped us identify important features (services) – we call them all-in-one service package – that we believe all children need in order to be healthy, happy and dignified and able to reach their potential.
Each service looks and feels different for every child and is influenced by their age, ability and experience. This all-in-one service package includes:
Feeding program at schools and/or food item distribution to use at home;
Health care service such as general medical screening, medical care service;
Personal hygiene care materials supply such as body lotion, soaps, hair food or oil;
Personal assistance such as providing supplementary clothes and shoes; and,
Early Age Educational support such as school materials supply, school uniforms provision, and tuition and tutorial fees.
For many children in Ethiopia, these services are threatened or weakened by the disadvantages they experience, such as living in poverty, being disabled or experiencing loss, abuse or trauma.
Our all-in-one service package makes differences in children's lives that help prevent or overcome the effects of the disadvantages they face and, in turn, live healthy, happy and dignified childhoods and reach their potentials.