Widows who have made poverty history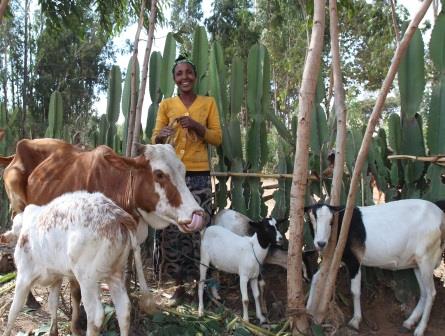 Woyzero Jole Ketira is a widow living in Fulasa Aldada locality of the Boricha district with her four children and a grandchild in a small mud hut. She lost her beloved husband, who was then a strong farmer, due to an illness thirteen years ago, an incident which had left her not only heartbroken but also in extreme poverty. Three of her children could not go to school because she was unable to afford the school materials, the school uniform and other necessities for school children except the youngest son, Tariku (BAP003), who is in SHAPEthiopia's child development Program since September,2016 .Tariku is the only child in the house who has gotten the golden opportunity of schooling in the family.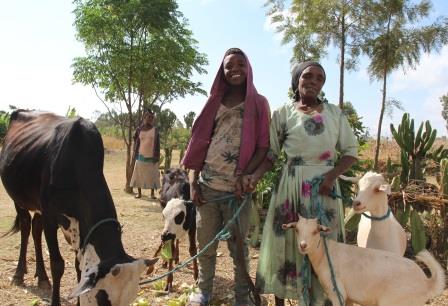 "Our whole very lives were dependent on the small plot of Enset(False Banana) farm, which even could not feed our family throughout the year. We did not have any farm animals then and our only source of food is the Enset farm which takes years to be ready for food. After I lost my husband things even went worse." Woyzero Jole said. In February 2018, when SHAPEthiopia launched its Widows' Hope Poultry and Livestock Project in Boricha district, Woyzero Jolewas one of the 25 widows who were selected to be beneficiaries of the project. It was then that she was granted with a heifer and a goat and provided with a skills training to run her own animal husbandry business.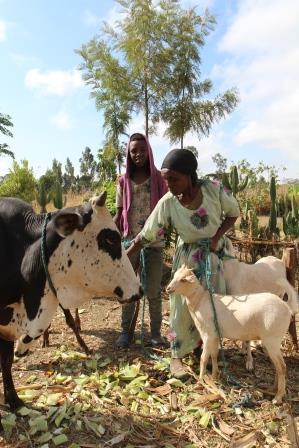 " That was the beginning of a new chapter in the life of my whole family." Woyzero Jole Ketira remembers. "It was after that very moment that a family who do not have even a single chicken has begun owning farm animals. Now, my cow gave birth to a calf and it is giving milk and so does the goat. Besides feeding my family with products, I am also getting extra income by selling the dairy products to other people. I feel I am blessed" She added.
Woyzero Adabe Shoma is also a widow and beneficiary of our Poultry and livestock Development project in Boricha , living in the same district of Sidama zone with her five children. Her youngest son Addisu(BAP006) is in our Child Development Program since September ,2016.She lost her husband in an accident twelve years ago and the family had been struggling to survive with the small money they got from the government's Safety Net Program,700 Birr a month. Providing the basic necessities to six members of the family, including her, with this very small amount of money had been so hard for this single mother, Adabe.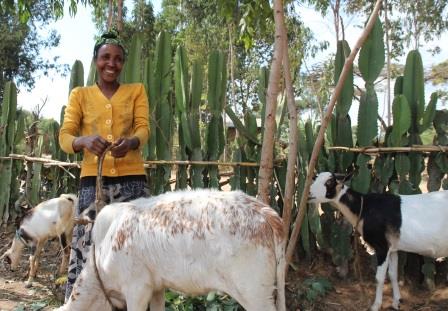 "Three years ago when SHAPEthiopia came to our community and started a project my son Adissu was one of the 150 beneficiaries who were enrolled in to the project. Imagine how this support could bring a great relief to our family?" says Woyzero Adabe. The support has enabled her to send Adissu to school without worrying about his food, school materials, school uniforms, clothes and shoes, medical care, hygiene care materials and others and it was a great relief to this poor widow, in deed. In February 2018 SHAPEthiopia launched its Widows' Hope Poultry and Livestock Project and Adebe was one of the selected 25 beneficiaries of the project and was provided with a heifer and a goat. "I do not have farm animals before and I could not provide dairy products like milk, yogurt or butter to my children, I had been feeding them Enset all the time and sometimes I could not even do that."Woyzero Adabe said. The heifer that SHAPEthiopia granted her gave birth to a calf and the goat is multiplied. She is now feeding her family with the dairy products and earning an extra in come by selling the products. "Everything is different now, thanks to SHAPEthiopia. My livestock business is bringing not only more money to my family it has brought more hope and happiness, too" Woyzero Adabe Said.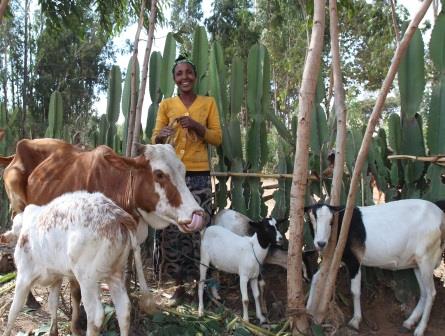 Our Boricha Widows' Hope Poultry and Livestock Development Project was launched in February, 2018 granting 25 widows a heifer and a goat each. Now 6 cows and 18 goat gave birth and became giving milk for the widows.