Donors and Beneficiaries exchange passionate feelings during the home to home visit in Hawassa.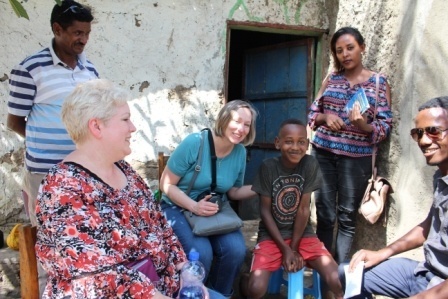 "I feel as if these people are our closest relatives  coming to visit us  from a distant place ".  W/ro Martha Doyamo,  Mother of  Mitiku Batiso.
Beneficiary children  of our  H.O.P.E.Child and Youth Development Program in Hawassa and their parents  welcomed  the  visiting donors at their home,  with  passionate and pleasant hospitality  and exchanged feelings to each other in relation to the support  they are receiving from SHAPEthiopia. Moreover, the home to home visit  gave an insight  about the background  of our beneficiaries and their  parents .Started explaining about why she and her colleague  avail themselves there ,Mrs.  Ingrid Olson, President of the Partner With Ethiopia (PWE)  says that she is  here to visit them  and happy to  see how the are leading their life  as well as the impact  of their support  for  those poor children.
Responding to this W/ro Marta Doyamo,Mother of Mitiku Batiso , one 0f the 150 Orphan and Vulnerable Children in our Hawassa Area Program says "I am roasting these coffee beans to boil for you,our earnest guests ,the best thing I have, because I feel as if you are our closest relatives  coming to visit us  from distant place".  Mrs. Ingrid and her colleague Mrs. Martha Rothenberger expressed their gratitude and asked about the background about Mitiku's Mother.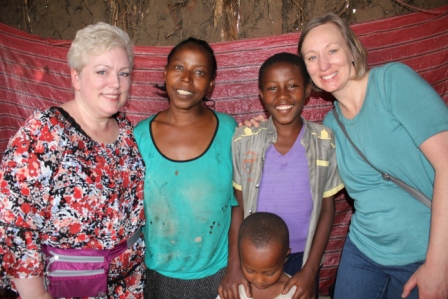 Mrs.Ingrid Olson,President of Partners With Ethiopia, and her friend Mrs.Martha Rothenberger visiting Mitiku's family in Hawassa.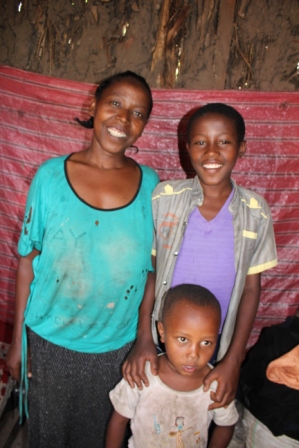 Mitku (HAP 150) with his little brother and his mother W/ro Martha Doyamo.
W/ro Martha explains that  she lost her husband 12 years ago  and come from a place  known as Changie, southern Ethiopia, some 20 kilometers away from Hawassa  in search of a better life .She added that baking Injera   (thin Ethiopian bread) and other labor work (cloth washing) are means of income  to  pay her monthly house rent. However, she delightfully explained that the support from SHAPEthiopia has significantly impacted her life by enabling her child  pursue his education which  she could't  afford it at all. She further elaborates" The food items, uniform, school and hygiene care materials, above all health service..etc are  things  that I don't worry  and left for SHAPEthiopia." Mitiku  is 11 years old and he is a grade three student known for his excellent academic performances.
Beza Petros  is another beneficiery child of our H.O.P.E.Child and Youth Development Program in Hawassa. She is a daughter of a widow, w/ro  Gete Genene, who lost Beza's father  12 years ago  and became a real victim of marginalization. She was  forced to marry the younger brother of  her died husband (due to the old tradition of inheriting the wife of a died brother,though it is declining in Sidama Zone by  stakeholders intervention) and gave birth to her second daughter Marnesh Markos.But the marrage did not with whom she divorced due to conflict .She come from Aletawondo(district of Sidama zone ,some 80 kilometers away from Hawassa ) due to marginalization and discrimination from her second husband  and alienation of  her  neighbors in the community.
She is working as a house maid and baking Injera for other individuals to get meager income  and pay partial school fee for younger daughter Marnesh. Beza Petros 11,is a grade three student  and has been  receiving holistic support from SHAPEthiopia.  where as Marnesh has got partial  scholarship from private school.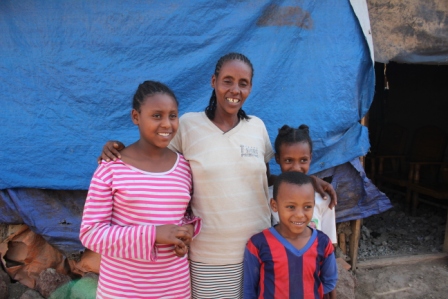 Beza(HAP30), her little siblings Mirtnesh and Elias, with their mother W/ro Gete Genene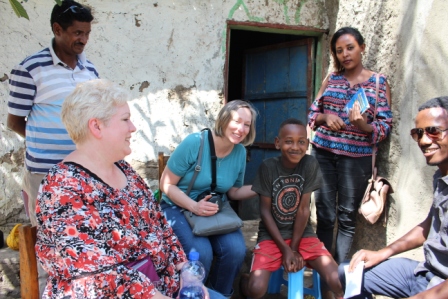 An agile child with lasting smile is Tegegn Gujo 8 ,is a grade three student enrolled in our H.O.P.E. Child and Youth Development Program and his mother Zenebech Argamo  has lost her husband and forced to work any  kind of labor work to support life .She says  the burden of  bringing up children with no income  is clear for everyone so that the support of   SHAPEthiopia  in educating her child is meaningful .
Furthermore,  the total number of children receiving support from SHAPEthiopia's Hawassa Area Program are 150,where75 from each of  the two kebeles  namely , Fara and Tilte of Tabor sub city in Hawassa city administration. So, the above described beneficiaries are from  Fara Kebele. One of the beneficiaries in Tilte kebele is Debora Gizachew 9.She is attending grade three .She has both parents ,but have no an income source due to victimization and  discrimination for being  HIV positive.
Moreover,as Debora's  mother W/ro Almaz Alano notes her husband is currently bed ridden so that she isreceiving small support from similar humanitarian  organizations. While she is living under this kind of family circumstance, Debora is so ambitious and clever enough to explain her hope to be a Gospel preacher after succeeding through education.
Meskerem(HAP91) with her mother and little brother.
Debora(HAP 97) and her mother W/ro Almaz Alano with Mrs.Martha Rothenberger during the home to home
visit.
Similarly, Meskerem Shibeshi is another ambitious child with similar family background like that of Debora.
She is also inclined to be a Gospel preacher after academic success. Surprisingly, these two children together with other neighbor fellows accompanied Mrs. Ingrid and Martha with melodious songs of praise about the love of Jesus Christ.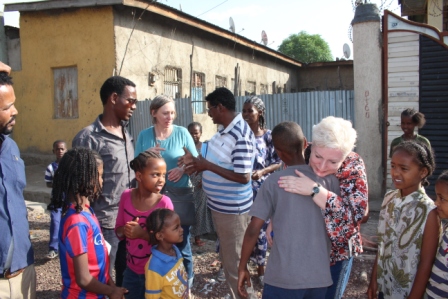 Describing about her insight about the beneficiaries in Hawassa Area Program, Mrs. Ingrid Olson said that she  has been able to see wonderful efforts of SHAPEthiopia  and the actual feelings of children  as well as their parents who speak about the impacts of  the regular support they are getting from SHAPEthiopia. At last, Mrs. Ingrid advised each of the beneficiaries  to be strong and courageous to cope up any challenges.